This is my favourite thread hands down. I haven't contributed anything any form of expression until now. I love seeing everyone FF scans and future endeavours. I especially like seeing other collector society members FF pedigree copies , since that is my collecting specialty. I will be attempting some scans asap, including a FF 79 mass copy.

_________________________
Always in search for Silver Surfer pedigree's (silver or bronze age), any grade!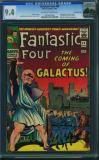 [IMG]